When winter weather is expected, here is one thing you can count on: Buncombe County Schools will be paying very close attention. Because safety is our highest priority when considering school delays and closures, our staff begins discussions about weather issues hours — and even days — prior to a weather event. In fact, we plan ahead to make sure our decision making, and communication plans are as efficient as possible, starting this process months before cold weather sets in. So, with so much planning, why does the decision so often need to be made early in the a.m. hours?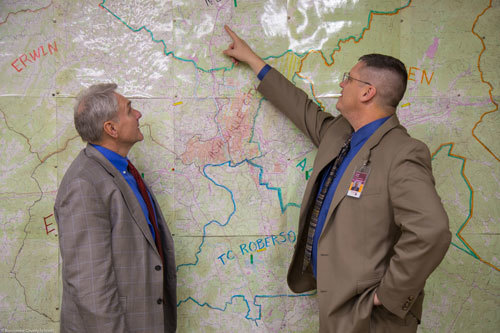 Let's take a step back and consider how this decision is made. Closing or delaying school is a tough call. The safety of children and teachers on our roads is the most important factor. Closing schools is major decision that affects nearly 30,000 student and staff families in Buncombe County, whose employment, daycare, and daytime needs are disrupted, in addition to the inconvenience of making up school days later in the year. So, school officials take this responsibility seriously.

"Our buses travel over fifteen thousand miles daily with a large portion being on secondary roads," explained BCS Director of Transportation David Rhoney. "It's a challenge to monitor and report road conditions, only to have them deteriorate or improve rapidly. For this reason, making a decision requires vigilance. Not only are we making decisions that impact our buses, but we must also consider our staff, parents, and student drivers that will be facing the same conditions during their morning commute to schools."

"If you don't like the weather, just wait five minutes." This phrase is often heard to lament the unpredictability and quickly changing nature of weather in the mountains. Because winter weather can suddenly escalate or dissipate, BCS relies on a network of observers in Western North Carolina. Some of our advisors are in neighboring school systems and transportation offices who may face the weather before it approaches Buncombe County. We also receive information from our local meteorologists, the Department of Transportation, Highway Patrol, and local media. Still, when a weather system hits the mountains, it can affect areas differently. Therefore, in addition to our regional advisors, BCS puts our transportation experts on the roads around the county to personally observe and report back on road conditions.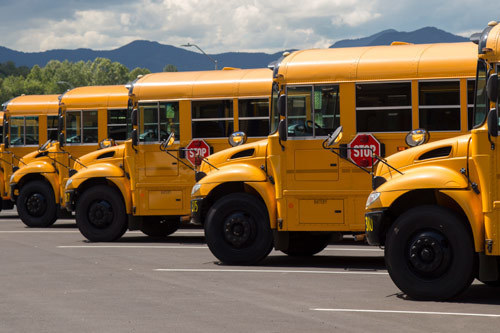 "It seems like any road that has Cove, Branch, or Mountain in the title is a good place to be watching," says Assistant Superintendent Joe Hough. "Our spotters live in key areas and at 4 a.m. they are out assessing roads from the moment they walk out their doors."
Sometimes a decision can be made the night before, but often it is necessary to rely on visual inspections early in the morning to determine the effects of a storm. If ice and snow has melted due to a temperature increase, for example, it may be safe to travel to school regardless of how much snow fell the prior evening. Another complicating factor is that in our six school districts, the terrain varies greatly, and school buses pick up students at widely varying elevations along their routes. According to Durner, the elevation in central Asheville is slightly over 2,100 feet but might be as high as 3,600 feet in the North Buncombe District. This means it wouldn't be out of the ordinary for a parent at a higher elevation to see snow outside of their window, and another at lower elevation to see dry ground. Direct visual inspection is an important tool when road conditions vary and closing schools by district is also an option.
The result? We do everything we can to make a timely decision with regard to the closing of schools due to inclement weather. Our goal is to make a determination before 6 a.m. However, the geographic diversity of our county coupled with weather unpredictability does not always allow this to occur. During severe weather, if the scheduling of more than two districts must change, the entire school system will generally be affected.
Decisions to close the school system once schools are already in session will be approached with similar care and those decisions will be communicated promptly. Again, the safety of our students and employees remains the highest priority in the decision-making process and is never compromised.
We thank our community members for their encouragement and understanding as we do our best to make the most beneficial weather-related decisions for our students and families.
Stay informed. Information regarding school delays and closings is available through multiple sources. Our current options for staying informed are available at info.buncombeschools.org.
Does your school have your up-to-date contact information?
Prior to the winter, we encourage all BCS families to make sure their schools have their most up-to-date phone and email information. This not only assures that schools can keep parents and guardians informed of weather or safety decisions, but it helps us remove non-current phone numbers from our lists. Parents are encouraged to use the Parent Portal to update their student's contact information or call their school for assistance.