Mrs. Woehl & Mrs. Knox
Mrs. Knox and Mrs. Woehl work together to offer our students an opportunity to compete in this competitive team.
This team is for fourth graders by invitation only. Selection is based on maturity in a competitive situation, ability to read a high volume of material, analyze and recall information. The team meets on Wednesday mornings from 7 - 7:30 in the media center.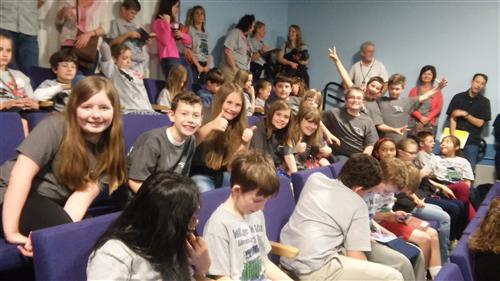 Elementary Battle of the Books for 2016-17
| TITLE | AUTHOR |
| --- | --- |
| A Long Walk to Water | Linda Sue Park |
| A Nest for Celeste | Henry Cole |
| Crenshaw | Katherine Applegate |
| Fish in a Tree | Lynda Mullaly Hunt |
| Greetings From Nowhere | Barbara O'Connor |
| Jake | Audrey Couloumbis |
| Love, Ruby Lavender | Deborah Wiles |
| Savvy | Ingrid Law |
| Smells Like Dog | Suzanne Selfors |
| The Homework Machine | Dan Gutman |
| The Key to Extraordinary | Natalie Lloyd |
| The League of Seven | Alan Gratz |
| The Mostly True Adventures of Homer P. Figg | Rodman Philbrick |
| The Tale of Despereaux | Kate DiCamillo |
| The Year of the Dog | Grace Lin |
| Tuesdays at the Castle | Jessica Day George |
| Ungifted | Gordon Korman |
| Woods Runner | Gary Paulsen |
Welcome to the 2015-2016 Battle of the Books season. Up to twelve fourth grade students have been nominated to participate in this enrichment program of literacy, teamwork and friendly competition. This group of students will read a collection of books then test their knowledge in a quiz bowl style battle against other teams from around Buncombe County Schools.
This year we will be participating in the North Carolina School Library Media Association's Battle of the Books. We will use the official list of books which is quite large.
Whether you are selected to participate or not, these books are well worth your while.
Blue team: KC, Agnes, Payton, Karen, Zach Philip
| Title | Author |
| --- | --- |
| A Dog's Life | Ann M. Martin |
| Blood on the River: James Town 1607 | Eliza Carbone |
| Found (book 1 of the Missing series) | Margaret Peterson Haddix |
| How to Steal a Dog | Barbara O'Connor |
| Ruby Holler | Sharon Creech |
| Tuck Everlasting | Natalie Babbitt |
| The One and Only Ivan | Katherine Applegate |
| The Old Willis Place | Mary Downing Hahn |
| School of Charm | Lisa Ann Scott |
Orange team: Jackson, Coleman, William, Kiersten, Marah
| Title | Author |
| --- | --- |
| Because of Winn-Dixie | Kate DiCamillo |
| Becoming Naomi Leon | Pam Munoz Ryan |
| Lawn Boy | Gary Paulson |
| Runaway Twin | Peg Kehret |
| Scumble | Ingrid Law |
| The Lemonade War | Jacqueline Davies |
| Stella by Starlight | Sharon M. Draper |
| Snicker of Magic | Natalie Lloyd |
| The Fourteenth Goldfish | Jennifer L. Holm |