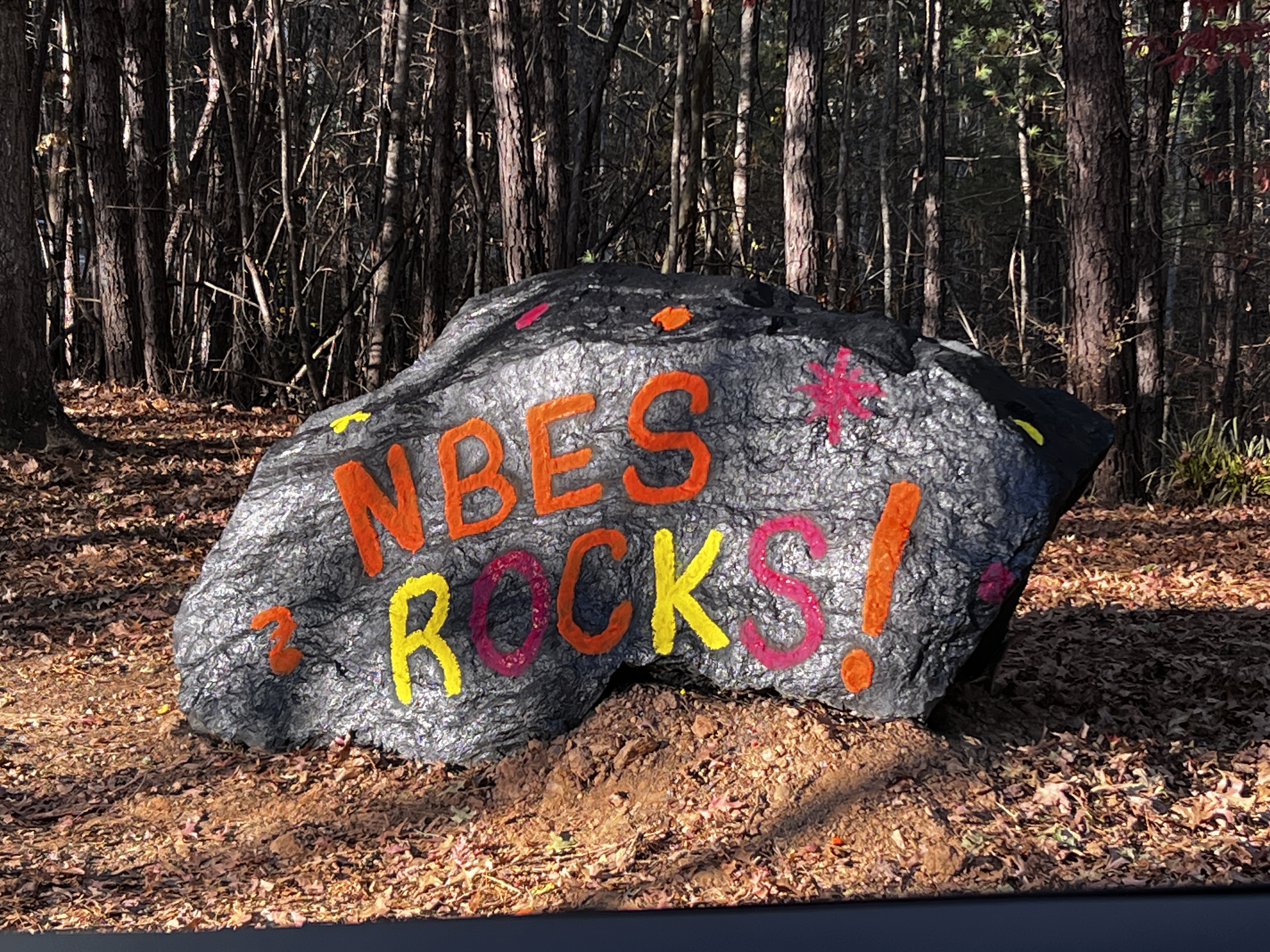 NBES Spirit Rock Reservations!
The NBES is ready to rent! Read below to learn more about this opportunity.
Click here to sign up: NBES Spirit Rock Reservation
The NBES Spirit Rock is a great way to send a message for all to see! Congratulate your favorite student on an accomplishment, wish a student a Happy Birthday, show appreciation to your favorite teacher or staff member, celebrate a team win or let everyone know how much you love your school. The rock is available to reserve for the day or multiple days.
Reservations will be made only to a custodial parent or guardian of a current student, and NBES staff for their use and enjoyment.
Please read below for more information:
The cost to rent the rock is $10.00 per day. The day is a 24 hour period and runs from 3:30 PM on the day before your rental day (time to get it painted) until 3:30 PM on your rental day.

Reservations for Mondays include painting time on Friday afternoons after 3:30 PM. The campus gate will not be unlocked for weekend painting.

Reservations are made on a first-come, first-served basis. Your reservation is not confirmed until payment has been received.

Cash or Checks only. Checks should be made out to NBES. Payment should be turned in to the main office.

No refunds will be given, even in the event of inclement weather.
Painting Tips (The entire process normally takes about an hour, depending on design):
You will need 2-3 cans of spray paint to completely cover the entire rock (Advice: Do not waste your time or money with the $0.99 cans, they don't work). Paint the "face" of the rock first, and then by the time you finish with the sides and back, the face will be dry and ready for your message.
Get small bottles of acrylic paint in each of the colors you choose for your message (usually less than a $1 each) and paint on with paint brushes.
Please adhere to the following guidelines:
*You must wait until 3:30 PM on the day before your rental to begin painting.
*No obscene or foul language or messages.
*No political, religious or other taboo messages – Administration reserves the right to remove any slogan or message that is not consistent with the intent of the rock and refunds will not be given.
*Keep area around rock clean and free of paint and trash.
Cost: $10 to reserve the rock for 24 hours - parent paints the rock base and message. You may reserve more than one day if you want your message to last longer!
When completing your online reservation, please include your name, child's name* and your phone number*.
*These items will not be visible to the public.
All proceeds will go directly back to NBES to support students and staff.
Questions? Please email Heidi Allison @ heidi.allison@bcsemail.org.